Brazilian Video Art Re-Imagined at ICA at 50
Institute of Contemporary Art at the University of Pennsylvania
118 S. 36th Street Philadelphia, PA 19104
One-night screening event on Wednesday, March 26, 2014 at 6:30 pm.
Gallery exhibition on view from March 12 – 30, 2014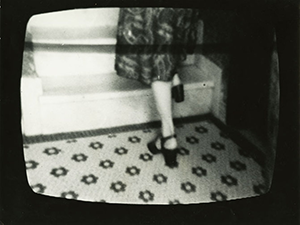 This year, the Institute of Contemporary Art (ICA) in Philadelphia celebrates 50 years of national and international exhibitions.   In 1975, the ICA organized one of the first exhibitions of Video Art, which included very early works by now renowned Brazilian video artists. 
Recently, I had the opportunity to speak to Jeff Bussmann, curator and organizer of the
Videoarte Brasil
exhibition, opening on March 12, 2014 at the ICA.  This program is one of the dozens of exhibitions organized to celebrate and re-imagine select ICA exhibitions from the past 50 years.    
BV
: 
How did the idea for this Brazilian Video Art exhibition come about?JB
: As part of the planning for our 50
th
anniversary, Ingrid Schaffner, our Chief Curator, was interested in understanding how staff experienced the history of the organization and ideas that staff had about keeping it relevant and contemporary.  She then invited all staff to propose ideas for exhibitions and programs.  Once she invited us to think about programs, I started reviewing the catalogs from past exhibitions.  I saw that in 1975, the ICA hosted one of the first comprehensive video art exhibitions with over 80 artists, and of those, I noticed that five artists were from Brazil.  
BV 
:
What drew you to these Brazilian video artists?  What was important about this show?JB
: The 1975 ICA exhibition
Video Art
was structured in two parts: First, the Brazilian video artists were invited to participate at the ICA exhibition, and second, American video artists were then invited to exhibit and participate at the XIII Bienal de Sao Paulo
[i]
.  I became interested in the connection between these two organizations, ICA and the Bienal, and how 1975 was an important year for both.  
There were two groups of video artists invited to participate in the ICA exhibition; one working in Sao Paulo, and one working in Rio de Janeiro.  The Brazilian artists had six months to produce work directly on videotape.  This was early in the development of video, the technology was experimental, and not all artists had access to the new technology.  Many artists were working on super-8 or 16mm and then sometimes transferring it to video later.  The Sao Paulo group did not complete the art work in time to be sent to the United States. The artists from Rio, led by Anna Bella Geiger, had access to a Sony Portapak video camera, and they were able to create directly on video and met the deadline for the show.  
The opportunity to show video art outside of Brazil was particularly important in 1975.  Many artists were not exhibiting in national institutions in1975 in protest of the military dictatorship.  Because artists were boycotting the national institutions, they were looking for opportunities to exhibit their work outside of Brazil, in order to increase the level of international awareness about the conditions in the country.   
BV
: 
Tell us about the Brazilian Video Art program at the ICA in March 2014
.
JB
: I wanted to bring the videos back to the ICA after 39 years, to show the historic importance of this work, and to look at what these artists have been doing since the early days of video art.  These two groups, one in Sao Paulo and one in Rio, became very influential in contemporary visual arts in Brazil.  Regina Silveira, from the Sao Paulo group, for example, has become important globally. Fernando Cocchiarale and Paulo Herkenhoff, of the Rio group, are renowned in the field of curatorial practice and museum leadership in Brazil.  
It is an important opportunity to show the vital and excellent work being done outside the American and European art monopoly.  These artists are now being valued and acquired by collectors and museums.  A lot of museums in the U.S. still do not have large and deep collections of Latin American art.  They are just beginning to invest in purchasing Latin American art and are hiring curators specializing in Latin American art.     
BV
: 
You recently traveled to Sao Paulo to research the 1975 Bienal and to interview the Brazilian artists included in the ICA exhibition that same year.  What did you learn that was surprising?JB
: I was interested in understanding the context for the Brazilian video artists exhibited at the ICA and having a deeper understanding about the controversy about the American video art work invited to the Bienal that year.  I went to Brazil in January 2014 to spend time in the archives at Bienal de Sao Paulo and the Museu de Arte Contemporanea da Universidade de Sao Paulo (MAC/USP).   
In 1975, Bienal's founder and Executive Director, Matarazzo, had stepped down and funding had become very difficult; it was a time of great organizational transition.  In the midst of this transition and in connection with the ICA exhibition, American video artists were invited to participate in the Bienal.  Jack Boulton, then the director of the Contemporary Arts Center in Cincinnati, traveled to Brazil to represent the work on behalf of the United States Information Agency which coordinated American participation in foreign art events at that time.  This invitation became very controversial, because the American video art work was not accepted for competition in the awards, with all five international judges refusing to watch the nine hours of work.  At this point, Walter Zanini[ii],MAC's director, known as a great ally of artists, wrote an opinion piece in the Estado de Sao Paulo newspaper, about the importance of showing experimental media and including the American Video Art work at the Bienal.   Jack Boulton retracted his threat after much controversy and the works were screened in the exhibition, but still were never consideredin the competition.  
BV:
Why is this work still important?JB
: We are living in an age saturated by media, especially by video media.  Today almost everyone has the opportunity to make media; our phones have become the vehicle to make portable home videos.  I am interested in bringing work back to when the media was emerging; a time when television corporations had a monopoly on media production, and in a place like Brazil were subject to state censorship.  These video artists grew up on television and once they had access to video, they were playing with what television could be if the boundaries were pushed.  It is important to look at a time when artists began to experiment with the moving picture as art.   
Don't miss this special event at ICA on March 26 at 6:30 p.m.. The event is free and open to the public. Jeffrey Bussmann and Glenn Phillips of the Getty Research Institute will screen and discuss these video art works rarely seen, including works by Sônia Andrade, Angelo de Aquino, Fernando Franca Cocchiarale, Antônio Dias, Anna Bella Geiger, Geraldo Anhaia Mello, and Letícia Parente,some of which were originally shown in ICA's groundbreaking exhibition
Video Art
, 1975.  
Also on view in ICA's galleries from March 12 through 30 are the works of three Brazilian artists working in video today: Jonathas de Andrade, Tamar Guimarães, and Rosângela Rennó.  
Bia Vieira is the Executive Director of FLAFF; the region's first and only film festival showcasing the extraordinary work of Latino and Latin American filmmakers.  FLAFF 2014 runs from April 25 to April 27, 2014.  For venues, locations and program times, please visit flaff.org.
---
[i]
Founded in 1951 by the Italian-Brazilian industrialist Ciccillo Matarazzo (1898-1977), the Bienal is the second oldest art biennial in the world after the Venice Biennial, (started in 1895).  
[ii]
Walter Zanini (1925-2013) was a key figure in disseminating and legitimizing video art in Brazil.  During his time as Director of MAC, he was instrumental in creating a video lab with equipment available to young artists who later came to produce Brazil's first-ever video art pieces. Zanini curated the influential shows Prospectiva '74 and Poéticas Visuais 1977, among many others during his fifteen year tenure. Later he went on to organize the 1981 and 83 editions of the Bienal de Sao Paulo.